Tom Sheehan
Poet and Author
<![if !vml]>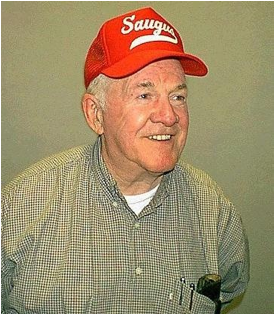 <![endif]>"A great writer, perhaps a Great American Writer, Tom Sheehan is also a great OCEAN. He writes with his generous heart, from his vast memory, and tells American stories from his lifelong home where the Saugus River winds its way to meet the Atlantic Ocean along the Massachusetts coast. From the depths of his experience, we walk through his life, meet many who touch his, then our lives, and carry on the great American traditions of hard work, playing ball, of sharing with family and friends, of living life to the fullest every moment. His six year old grandson recently tapped his chest with his small fist, and said, 'It's in our soul.' With Tom, we pay homage to all the moments in life, big and small, and realize their ongoing value. On this Memorial Day weekend, he carries out a great American tradition of remembering those he knew and didn't know who served with him for America's freedom, for the world's freedom, his lost comrades who gave their lives for us. He is a Great American who reminds us, by his deeds, to be great Americans. You can read his writing in every issue of OCEAN beginning with OCEAN Fall 2007, Issue 16. You can purchase his books here: http://www.new-works.org/9_4sheehan/sheehan_bio.htm"
From Ocean Magazine's Blog
Tom Sheehan's latest books are Brief Cases, Short Spans, November 2008 from Press 53 of NC; From the Quickening, January 2009 from Pocol Press of VA; a proposal for a collection of cowboy stories, Where the Cowboys Ride Forever, is in the hands of a western publisher; other in-process works are Epic Cures II, and novels Murder from the Forum, Death of a Lottery Foe, An Accountable Death, The Keating Script, and Death of the Final God. His work is currently in or coming in Ocean Magazine, Perigee, Rope and Wire Magazine, Qarrtsiluni, Green Silk Journal, Halfway down the Stairs, Ad Hoc Monadnock, Hawk & Whippoorwill, Eden Waters Press, Milspeak Memo, Milspeak Mentoring, Ensorcelled, Canopic Jar, SFWP, Eskimo Pie, Lock Raven Review, Indite Circle, Northville Review, Pine Tree Mysteries, and in the book coming from Press 53, Home of the Brave, Stories in Uniform. He has 10 Pushcart nominations, a Noted Story of 2007 nomination, the Georges Simenon Award, and a selection for inclusion in the Dzanc Best of the Web Anthology for 2009. Tom's essay, "Is It Art, This Mentoring, or All Imagery?" is included in the anthology, Milspeak: Warriors, Veterans, Family, and Friends Writing the Military Experience (Press 53). Tom serves as a mentor for Milspeak Writers.
A Note on Anthologies from Poet and Author Tom Sheehan: Anthology Connections
I could have called my Dzanc story, "Knickers," a legitimate creative piece of non-fiction because so damned much of it was true, right to collected sounds, expressions, the memories lingering yet, and the people of those memories. And seeing "Knickers" lined up with other works in the Dzanc Books Best of the Web 2009 says it doesn't matter what label I put on it; it stands as written, proof of the pudding that a pair of knickers found in one Sunday afternoon at the beach a promised fate. That such an afternoon completes the entries in this anthology is testament to the richness of those involved and who pass through the lines of the piece.
Finding your work in such an anthology, meaning it has been selected out of hundreds of pieces of sturdy competition, is a pleasant ending to the tough hours in which an unwieldy prose is pared to a presentable form, proved digestible, and found delectable to a reader's taste. The sense of payback is enormous.
Home of the Brave; Stories in Uniform, from Press 53, an anthology with an all-military connection, is a further review of unforgettable people with basic beginnings and heroic endings. Finding a creation of yours lined up with Tobias Wolff, Tim O'Brien, Kurt Vonnegut and James Salter, who flew some of his 100 combat missions above my unit in Korea, comes off as a veteran's piece of the cake. I know Jim Salter shared some of his aerial space with Ted Williams, hero in Red Sox left field and beyond who came to be the subject of poems written in deep fox holes and earthy bunkers in 1951 while those two pilots flew overhead.
And from Press 53 again, comes another anthology of days of pressure, action and peril as real as fragmentation, Milspeak: Warriors, Veterans, Family and Friends Writing the Military Experience. Here is the order of things so dependable one feels he is standing yet in the ranks of comrades --- few things match that consideration.
Such associations spiral down into this collection, as they did in my memoirs, A Collection of Friends, (from Pocol Press) the dedication saying: For those who have passed through Saugus, those comrades who bravely walked away from home and fell elsewhere, and the frailest imaginable soldier of all, frightened and glassy-eyed and knowing he is hapless, one foot onto the soil at D-Day or a statistical sandy beach of the South Pacific and going down, but not to be forgotten, not here.
Lastly, comes another anthology titled Journey (Anthology from Eden Waters Press) arriving in the same mail delivery with Home of the Brave. A writer's efforts, the bent dreams, the upturned idea, the furrowed brow, find their way into words that sing again and again. The music echoes.
Interviews
Interview at Rope and Wire Magazine
Reviews
This Rare Earth and Other Flights
Articles
"Saugus's Own National Treasure"
Recorded Poems
Other places of Interest where you can read Tom's work
At Rope and Wire Magazine where 50 of Tom's Stories can be found
At Pocol Press (Order form for From the Quickening)
<![if !vml]>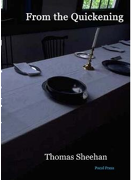 <![endif]>

At Press 53