From the Quickening
Thomas Sheehan
<![if !vml]>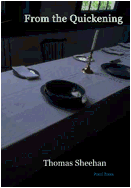 <![endif]>
This short fiction collection by storytelling master Thomas Sheehan explores the human condition from soaring heights to depraved depths and everything else in between. If John Donne had not penned his line Ňany manŐs death diminishes me, because I am involved in mankindÓ, Thomas Sheehan certainly would have.
Sheehan is the author of twelve books. Brief Cases, Short Spans was published in November 2008 by Press 53. Epic Cures, won a 2006 IPPY Award. A Collection of Friends was nominated for the Albrend Memoir Award. He has also been nominated for ten Pushcart Prizes, three Million Writers, a Noted Story of 2007, and received the Georges Simenon Award for Fiction. Sheehan served in Korea in 1951-52.
From the Quickening
ISBN: 978-1-929763-39-9
6 x 9 inches
206 pages
$17.95 USA / $24.95 CAN
Softcover
All rights reserved.
ORDERING INFORMATION
Fill out and send this form with check or money order for $17.95 plus $3.00 shipping and
handling to:
Pocol Press
6023 Pocol Drive
Clifton, VA 20124
703-830-5862
Also available by credit card on Pocol Press website.
See our website for our other books.
Name________________________
Street________________________
City__________________________
State_______________Zip_______
Qty_____Amt. Enclosed__________