We began on September 19, 2009, with Craft Seminar. The craft talk changes with each MCWS. This is because I am always growing as a writer and a teacher, and because each group of writers is different. We spent a lot of our time during MCWS 10 discussing descriptive writing. Details. Sensations. Concrete nouns combined with active verbs. Naming a thing what it is. But details, always details.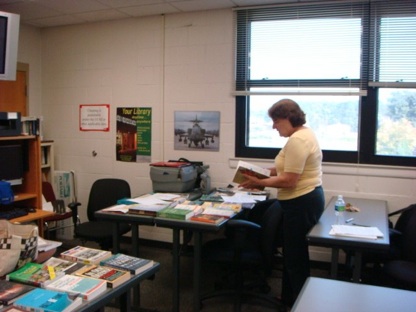 MCWS writers are usually surprised to discover I expect them to do research. Researching our lives, and outside events that occur in tandem with our lives, provides the details so essential to great descriptive writing. As a writing strategy, description is intended to create a dominant impression. I asked more than one of the MCWS 10 writers to create a dominant impression of a generation included in the writing.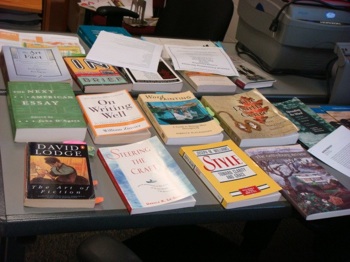 Rich describes the Millennials, the WWII generation, and the clash between the two. As a recruiter on September 11, 2001, Rich was caught in the center of that collision of generations. He emerged scarred, as all of us did who survived that horrific day.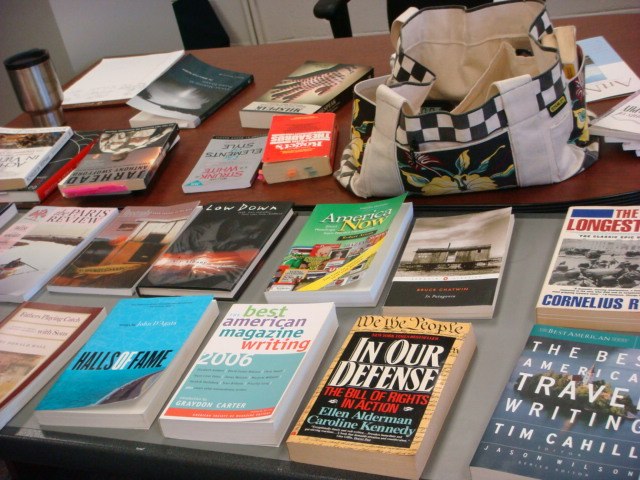 Nancy describes 1950s Maine farmers, and her place among them as a freshman in high school who wants to attend college but is told that's not possible - because she is female. 
Caroline renders a moving van a beast as she recounts her growing up, stage-by-stage and move-by-move as the child of a military family. Caroline's writing and story-telling talent is remarkable. To see her read her work is unforgettable. She changes while she reads. She is a work in progress, a young woman as talented as she is lovely. I hope other military children and young adults find her stories on this website. She has so much happiness to share, and so many survival strategies.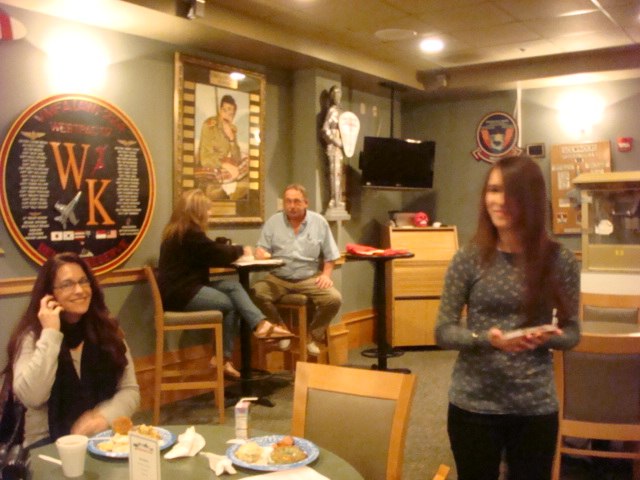 Patti writes of the many transformations she has made as person who has spent almost her entire life as part of the military, first as a child, then as a her active duty daughter's dependent. Patti is caretaker of her daughter's children. While her daughter deploys, Patti cares for the children. So in Patti's story, we learn one solution to the difficulties of a being a single parent on active military duty. There was a time in this country when single parented families were outside the norm, their occurance rare. That time is long gone. Single-parented families in the military are as common as they are in civilian life. What we should be focusing on is how to make their lives better and their transitions from deployment to shore duty easier.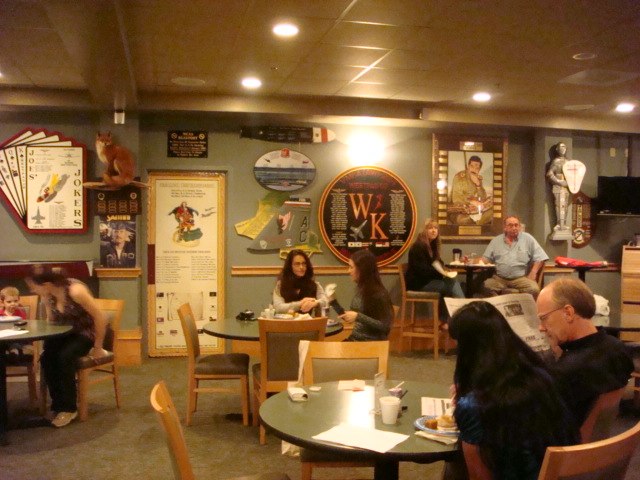 Everyone benefited from our extended discussion of Plant & Return during Workshop 2. Steve really put this principle to work in "Darkness," his memoir about an eventful patrol in the jungles of Vietnam. The transformation of his work from first draft to final draft was remarkable. Steve was ill and unable to attend Celebration Saturday, but his wife Joan, who is also Steve's typist (lucky man!) joined us and read beautifully. Steve, like Moe, accompanied me to Wounded Warrior Battalion East on Thursday, October 29. It was an honor to be in the company of two Vietnam Veterans, both members of the 101st Airborne. The Marines we met at Lejeune certainly seemed to enjoy talking with these men.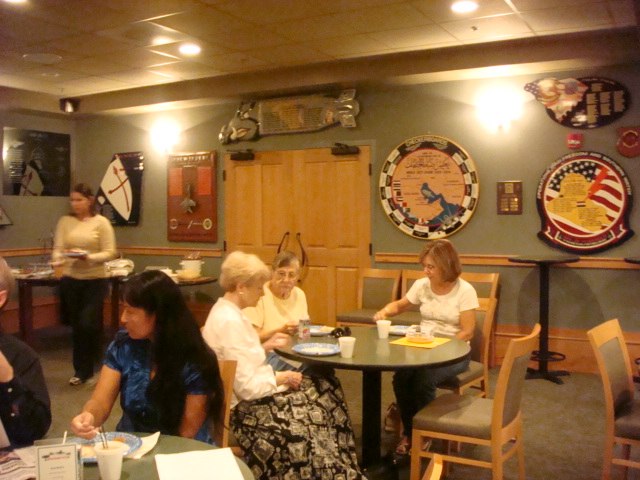 Moe had a different kind of experience during this MCWS. He's participated in three others, but this time he chose a terrifically difficult subject he didn't want to continue working with. This is okay. It happens. Sometimes we have to walk away from the work. Sometimes we walk away for awhile; sometimes forever. The story will be there when Moe decides to look back. As one writer says, "Write something great. Take all the time you need." Moe didn't give up - he changed course and wrote a poem he shared with us on Celebration Saturday.

Sarah wrote beautifully of her birth on a mountaintop in Hong Kong. Her birth adventure marks the beginning of her life as a Marine. She will soon retire following 20 years active duty. Sarah was in boot camp while I was on the drill field. She plans to write a longer memoir about her military experience. I hope she soon begins - I can hardly wait to learn more about Sarah, about her strength and sense of honor.

During the six weeks we spent together, I learned as much from these military people as they learned from me. As always, working with them is an honor I cherish.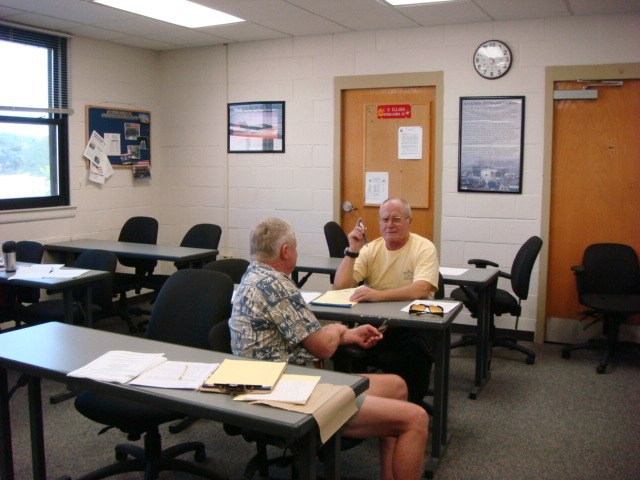 John "Jay" Stevens provided us with a Saturday morning discussion that was engaging and informative. But Jay did more than entertain or inform. He inspired us with his courage to uncover the truth and to share his own experiences in writing. I hope visitors will read his obituary for SSgt Matthew McKeown in Milspeak Memo post V5.10-19-09, and his short memoir, "An Evening With My DI" in Memo Post V5.10-26-09.

Like SSgt McKeown who marched his platoon into Ribbon Creek - six of them drowned - military people in charge of other military are always looking for creative ways to motivate their charges and to keep them alive. Keeping them alive often requires more creative thinking than motivating them to rush into battle. Creative Motivation is something military people have been teaching civilians for a long, long, time. Where do you think all those "team training" scenarios come from - those rope climbs, cliff hangs, those bungee-jumping adrenaline-rushing maneuvers used to influence corporate employees to train together and to convince juvenile delinquents to take a different path? Yep. The military. Mistakes do happen. Unfortunately for McKeown, six of the men he was responsible for died.

One is too many; six is horrendous. What about hundreds or thousands - for instance the number of military people now lost to war in Iraq and Afghanistan? The answer is written on the faces of generals and chiefs of staff, of commanders in chief and heads of state around the globe. War is a tough business. That's why our presidents are gray at the end of their watch. That's why our young men and women come from war with their faces masked and ancient, closed to questions and hardened against emotion. Sit down and read Hemingway's "Soldier's Home" and you'll understand. Ask any leader of  troops how it feels to be a leader. For them, McKeown's experience is one heartbeat away on a daily basis. But you don't have to ask - the answer is written in their faces, in skin bronzed by desert sun and embedded with desert sands. 

So many years of my military career were spent driving people beyond self-determined limits of endurance. As a staff noncommissioned officer, I was just plain hard on my troops, demanding their best, forcing them to achieve their potential, driving them toward excellence, like it or not - Suck it up; blood makes the grass grow. Hatred was most often the only thanks I received. I closed myself off to feeling anything other than pride in my troops' accomplishments. If they were successful, then I was successful. With the military people I write with, I'm not as hard, but I do relish their successes. I hope every writer who writes with me becomes a better writer than me, just as I once hoped every Marine who worked for me would be a better Marine than I had been or was or am.

As all drill instructors do, there were moments when I came close to crossing the line:  massing a platoon, and then later an entire series of recruits, forcing them to run in place, side-straddle-hop, mountain-climb, bend-and-thrust, and push-up until they thought their hearts would break. And, in the 30 second break between those dual sessions of incentive physical training we called IPT, forcing them to shout - instead of rest as they were by SOP supposed to do - the Rifleman's Creed at the tops of their lungs, the air rushing out of their lungs forced and raw, burning into memory - mine and theirs - those moments of sweat in the sand on Rifle Range Row.

I still drive myself just as hard to achieve my goals, but I don't drive Milspeak Writers the way I once drove Marines to achieve their best. I do find creative ways to encourage the writers I work with to re-see their stories and their lives.  The smiles that come my way at the end of a workshop make my day.  This Celebration Saturday was magical, joyous and sad. Stacy joined us, as did several guests for the read aloud. I tried to make SOS, but it didn't quite pass muster. Sied must have been laughing at me. At 0500 on Saturday morning I was making SOS because for the first time in two years, Sied wasn't there to do it for us. Sied would have loved this group of writers. He would have relished being among them, writing with them, hearing them beat off their demons and ghosts as they read final drafts in the Santini Room of the MCAS Beaufort Officer's club.

I can't seem to say Good Bye to the Master Gunz. Maybe I don't have to.

What a day. What a crew. What a delight.

I filmed the event with my Sony Cybershot camera. Over the next week or so, I'll be posting the video to YouTube. Please be sure to visit the Milspeak on YouTube tab in the navigation pane at the top of the page. As I upload the stories, I'll add the title and link to that page.  Tomorrow I'm on my way to Queens University of Charlotte to participate in an alumni panel about anthologies. The Milspeak anthology is four months old - I already feel the next one brewing.

I reckon my final destination on the pathway toward excellence is still a mite bit of a way down the timeline of destiny. OORAH!

MCWS 11 will meet from 8 May 2010 - 19 Jun 2010.  If I'm breathing, I'll be there. Hope you will be too....